#68: Are online courses the future?
I'm not sure, but I think they are more important than we think
September 28th, 2019: Greetings from Nara, Japan! (and friend Jonny's iphone photo mastery below). I'm taking a few days off before kicking off the first cohort of Reinvent and enjoying some Udon, temples and history in Japan.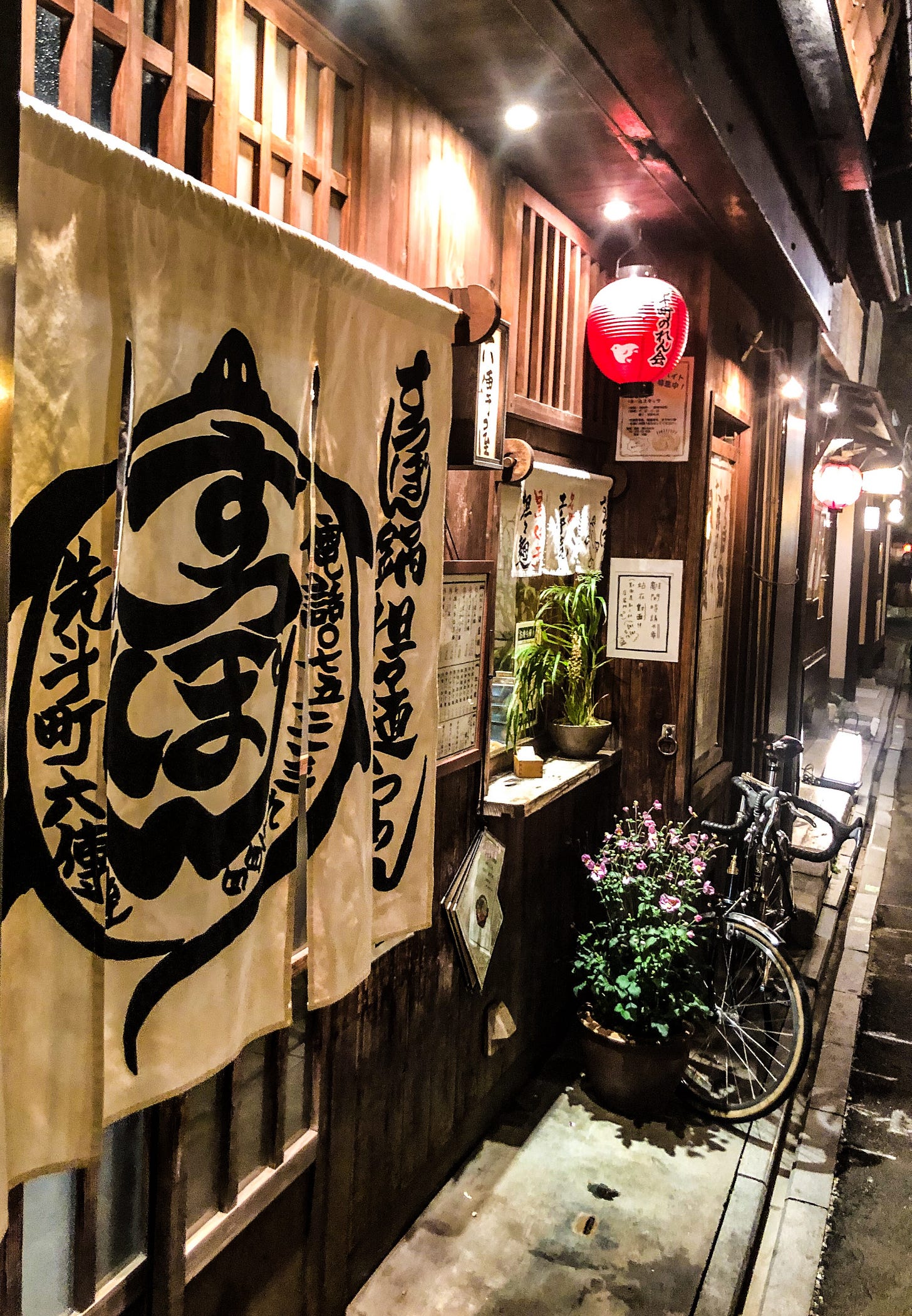 👋 Welcome to the newsletter Benjamin, Ben, Tanmay, Lizzie, Sandra, Scott, Rod, Ajibola, Tomas, Phillipa, Matt

📩 Forward this to a friend who might get a kick out of it via e-mail or share on twitter.
---
#1 Last Call For Reinvent - Reshape Your Ambition From Getting Ahead To Coming Alive
🌎 Reinvent will have two live calls - one in European time and one for Asian time as we have people joining from England, Australia, Romania, US (Boston, NY & SF), Taiwan, Vietnam and Indonesia.
👉 We also have Nita Baum, a friend and longtime freelancer coach and meditation teacher who will join multiple sessions to help us navigate the reflection exercises
🎨 The course is structured around a 4-week journey and will have a 1-week "action challenge" in which you will test or launch a creative project to see if you want to go deeper.
💯 While the course is ideal for current or future freelancers and self-employed creators it also a great way to "try on" a different path and see what it might mean for your life without the commitment of actually making a change.
(gift link in the FAQ too)
---
#2 Exploring the Pathless Path 🚶‍♂️🚶‍♀️
I published an essay and video this week on the four stages you'll encounter on taking a leap and committing to that journey:
---
#3 What I've Learned About Online Courses 🏫
This past month, I went a little crazy creating my third online course. In the process, I've been thinking a lot about the future of education, learning and how digital courses can play a role in that future.
My first course
I created my first, Dream Job Resume & Storytelling (free course) in 2015 because I was both intrigued by the developments in digital learning and wanted to put myself out of a job helping people with resumes.
I created a few versions of that initial course and experimented with different pricing and positioning on Udemy. One lessons I learned was that Udemy is hard place to stand out and build trust on a personal level among thousands of other courses.
The experience was not a complete loss. I decided to make the course free and over the past couple of years, I've had a couple hundred people enroll in the course each month. What is even more surprising is how global this group of students is. According to UDemy, people from over 95 countries have completed this initial course.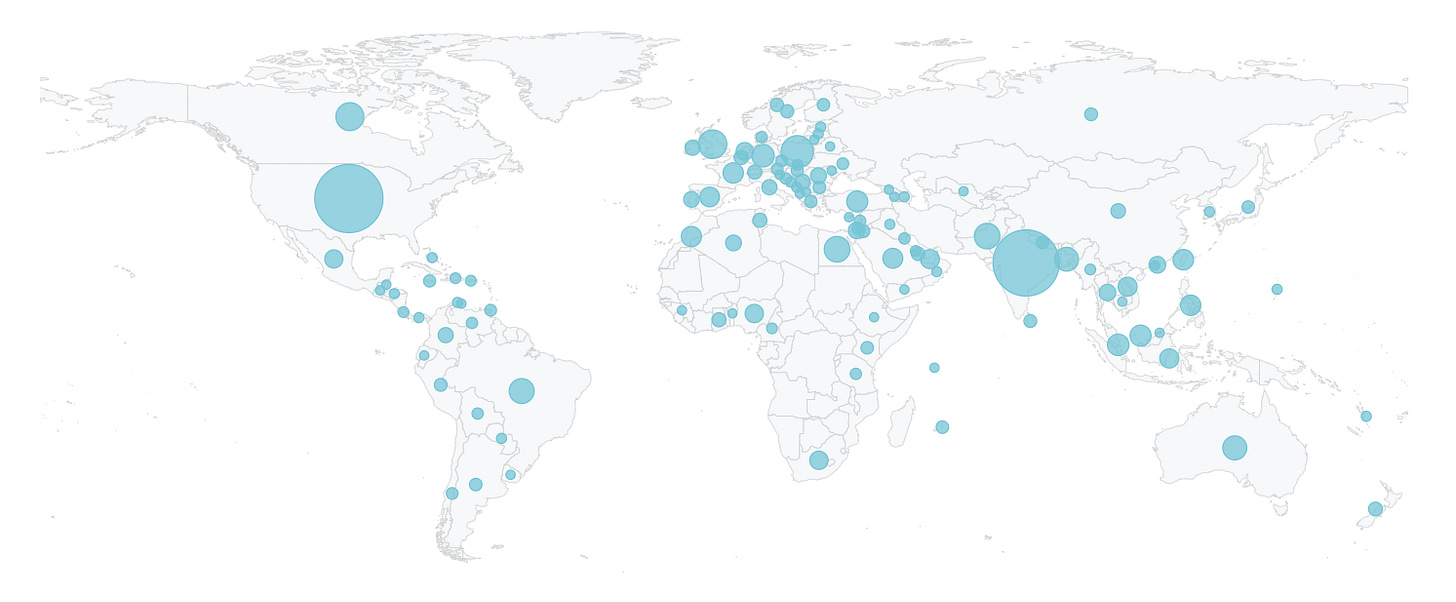 How cool is that?
"Digital Course Experience"
Intrigued by how I could take online courses to the next level, I created an experiment for myself in the summer of 2018. I decided to prototype the course that would turn into Reinvent. I created a landing page, created an outline of materials and found eight brave souls willing to take a chance on this experiment I was calling "Solopreneur Shift."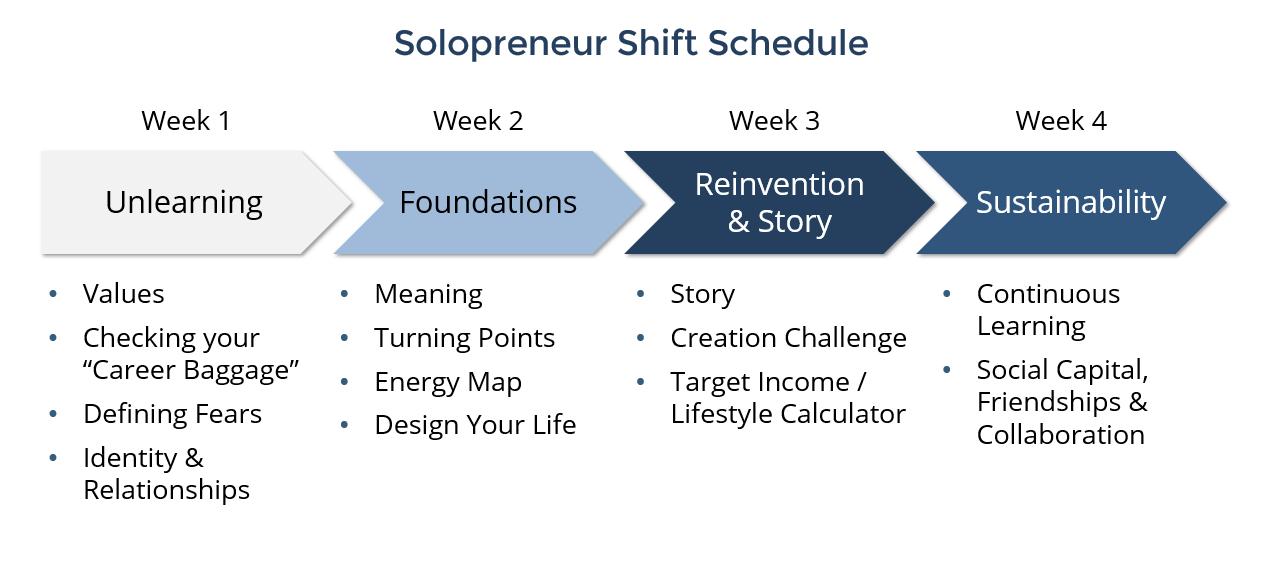 The feedback from the course was positive, but people craved going deeper into many of the topics and putting more emphasis on the "creation challenge" and using the course to launch something in public. One of our participants used the "creation challenge" to test a conference idea for her now launched "EconoMe Conference" (I'll be holding a drawing for a free ticket later this year, so let me know if you're interested!).
I knew I wanted to turn this course into an even better version, but that would be put on hold for at least a year as I decided to move across the world.
Going Deeper
After both of these experiences, I knew I wanted to keep exploring digital learning. However, I put my focus on Solopreneur shift on the back burner and ended up building a strategy consulting skills course instead.
This course emerged from in-person conversations in which people were shocked at how useful some of the skills I was sharing were. After some test mini-workshops and some experience building a consulting skills program for a client, I knew this was the next topic I wanted to turn into a course.
So last November I spent the entire month building the course. which took me about 250 hours of work. It was probably the most intense period of flow I've ever experienced.
While my initial "launch" was a flop, I ended up meeting someone who had some wisdom about digital marketing and he gave me a few different suggestions that helped me re-launch the business via a separate platform what is now StrategyU
Since this re-launch, we've had almost 100 students enroll in the course, have hosted our first Live Cohort (next one kicks off on October 1st) and have built a website that has grown from a few visitors per day to over 10,000 per month.
While I've had some success from this emerging project, I'm not sure where its headed and I'm excited to find out.
Tiago Forte's STEVEs Framework
Tiago Forte has been one of the most impressive mavens in the digital course space with his flagship product, Building A Second Brain. Through this course, he has experimented in many ways and influenced a whole new emerging generation of course creators.
His essay on a framework titled STEVE convinced me to continue experimenting in this space. Tiago believes we are in a third wave of online course creation build on this STEVE framework:
Short: short and high-intensity

Tiny: limited enrollment or close access to instructors

Exclusive: "high prices, application and selection processes, time-limited enrollment, or referral-only is a powerful signal that cuts through ambivalence"

Virtual: "these courses still take place online, but using a whole new generation of collaboration and creation tools."

Experiences: "this new generation steps away from the pure efficiency of highly condensed media, instead combining the unpredictability, humanity, and connection of live interaction with qualities borrowed from bootcamps: short, very intense, skill-based, forces you out" of your comfort zone, develops camaraderie, and…you have to perform to stay in."
I've tried to embrace these principles as I've continued to develop my consulting course and with my upcoming launch of Reinvent.
People In "Rich Countries" May Be Missing This Trend
Because of how strong the labor economies and returns to higher education are in developed nations, I think many people are missing the emergence of these kinds of online courses.
I offer all my courses with a "gift economy" option where you can pay-what-feels-right and the people that take advantage of this are mostly from "low-wage" countries.
When I first launched Think Like A Strategy Consultant, I received a lengthy e-mail from a young Malaysian man named Mustafa who detailed extensive reasons why he wanted to take the course, how it was going to help him and what it was worth to him.
He shared that the fee for the course would be a good portion of his monthly salary and wondered if I would offer a discount. Pumped by his motivation, I gladly sent the course to him as a gift, but that's not the point.
For Mustafa, self-learning is his default mode.  
Many people are scared of this shift and rightly so. Our job markets are demanding higher levels of skills than ever before which puts more pressure on the individual to continuously learn. For many, that can be terrifying.
But for people like Mustafa, online learning is the default mode for how they think about personal growth and development in today's world. I'm just hoping the "developed" countries don't get left behind.
---
#4 Company poems the new vision statement? 📝
It doesn't matter to me how much you're worth on paper,
or who you know or hang out with.
I want to know what your heart values
and what courage – perhaps dormant –
awaits
inside of you
to dare to pursue that for which your heart truly longs.

It doesn't matter to me how close you are to an IPO,
or if there are whispers of "unicorn" stirring among investors.
I want to know why this business matters to you
and if there's any chance of cultivating
culture, relationships and business that
brings people – including you –
into their own wholeness and vitality.
---
Want to support this newsletter? Give me a small dose of courage in the form of a $1 a month or more gift on Patreon or Podia for as little as $1 a moth.     

🙋‍♂️ If you want to learn more about who I am or what I'm working on, find me here.  Have a good weekend 😃